Tomorrow is my cousin's wedding and her friend Nifla came from UK to attend the function with her family. After the Mehindi Ceremony while my other cousins and I are catching up with her as our henna dries, the topic travels to the actual married life after the big wedding day. I ask her, 'Hey Nif, Why don't you to tell us about your experience?'
'Sure Meera.. It's a long story...' That's when she shares about her wedding halla balloo and how she fell in love with her husband.
'It was about two years ago...' She starts to narrate.
'Nifla, wake up..' my mom's voice stirred me from my deep sleep.
The weather was so cold in that early morning and as I still wanted to snuggle inside my cozy duvet, my mom said that my aunt has invited us for a get together. 'What's so special today, mom?' Even before I finished my question lazily my mom left the room. However, I was very amused as it was always fun to travel there where I can have a nice time with my cousins.
I was in Sri Lanka back then in between my jobs. As we were heading to my aunt's place in Kandy from my hometown Nuwera Eliya, the drive was good and I was enjoying the pleasant weather until my mom said that few people were coming over to see me. My amusement vanished and I felt so tensed and upset for they were informing me in the last minute. It was a very awkward moment and I simply remained silent in the rest of my travel being so grumpy.
As we reached the place I found out the family was already there waiting for us. I was mortified and so not in the mood for all this. I was annoyed with all of them even though it was not their fault. Then I was been called to the living room where I simply had to sit with them. Family seemed nice and that's when I saw the guy for the first time. He looked rather good and we exchanged few words even though I was not in a mood to talk.
You know, these arranged marriages are more like - every member in the family is supposed to express the same happy nod to make sure that the proposal is successful. It is like not alone the boy and the girl getting married but their families too. And somehow it works perfectly fine.
After they had left, we returned home that evening thinking not much of the situation apart from feeling a little annoyed. I didn't say much when my mom asked me if I liked the guy. Well I really didn't have anything to say. Did I like that guy? 'I don't even know him. How could I just say yes?' I wondered. My aunt had given him my number because she had a 'feeling' that he was the 'one' for me.
The next day my mom said they wanted to come over and confirm. I felt restless to even think that I was going to get married just like that. After 2 days he called me and we spoke for an hour or so and then found we had no reason to go against our family's decision. Now there was a wedding to prepare for, as we got engaged in that following weekend.
I was neither in love with him nor did I fancy him but I just felt it right. I didn't know what he had in mind but I couldn't understand why we both said yes so soon. Maybe we both found good reasons to tick the boxes that we were looking in our spouses at that time.
The date was set and only 2 weeks for the big day. Yeah, it was one hurry burry wedding. Since there was no much days left we were too busy with wedding arrangements which I had no interest in what so ever, I didn't get a chance to speak to him after our engagement and I was not very keen to it either. Surprisingly, he didn't call me too after that day.
Perhaps he was not keen as me as well.
I always had a dream of what it likes to be 'falling in love' and to know how that true kiss tastes like that it comes in fairy tales. But then I knew my ideas of my marriage was about to be shattered.
Even before we get to know each other, our wedding happened. Our families were so delighted but to me it was like standing next to a stranger in my bride's costume. Hiding all the tensions, my only job was to smile and pose as a perfect bride for those flashing cameras.
After the wedding, I moved with him to London where I thought I would have ample time to get to know him better. Our newly married days went on normally by spending out and visiting his family and friends there. Life was more practical than romantic, I would say. And I started to get adept to my new locale as well. But unfortunately, in less than 2 months he had to travel to US for a project. When he said he had to be away for a period of 6 months, I didn't feel any of those newly married 'missing' moments. But the day after we sent him off in the airport, suddenly of all these years I realized for the first time that I felt lonely even with my people around. I didn't know how to explain my feelings but I started to wonder 'Is this what they call love?' That night I cried a lot.
Ever since he left, he called me every day and we exchanged texts via SMS. Well, that's how we started to get to know about each other. We were simple individuals who enjoy family life and had some common interests to talk about. We discussed about anything and everything that made it feel so right and real. We even had petty fights. He became my best friend. Weeks went on and my day didn't feel complete without talking to him. He gave me butterflies whenever I saw his name on my phone calling or his texts blinking in my mobile. I started to wait for his calls and messages. But in my heart I wasn't sure if we were truly in love with each other.
I have heard that people can fall in love through chats and feel the words through those messages. I always wonder how one can feel the love if you can't see it in his or her eyes? After all, love has to be felt not merely told, isn't it? But my married life thus started in communicating through chats and messages and at that time I was glad that technology did somehow manage to redefine my 'feeling'. I feel so 'Me' whenever I talk to him.
'Am I in love?' 'Are we made for each other?' I often asked myself but I couldn't find my answers... until the day he returned home.
I was nervous and thrilled to see him, for he is no more a stranger to me.
I didn't know when and how I fell for him but all I know was he is the 'one'.
I wondered if he feels the same with me. My heart skipped a beat and I couldn't control my blush as I met his searching eyes. He came to me straight away, took my hands and hugged me without saying anything. The touch and that one hug was more than some million words spoken.
I slipped my fingers through his cold palm as he caressed my henna-ed hands and held it tightly. He walked me to the balcony and there we stood in silence watching the beautiful night sky. I leaned on his shoulder with a tinge of contentment and love reflecting in my eyes while he took my fingers and slipped 'this' ring and gently whispered in my ears, 'I love you...' for the first time.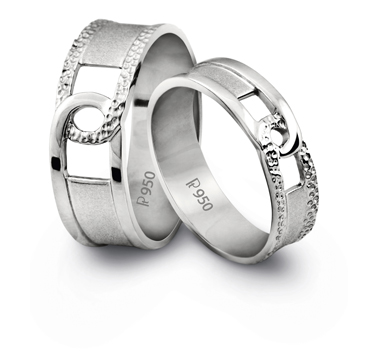 Today...
Nifla shows us the Platinum ring brilliantly adorning her finger and says, 'And that's how we both discovered our most precious moment. Since then our life is nothing but a fairy tale, by God's grace'.
After finishing her love story, she pats her little girl who is sleeping on her lap and holds the hands of her loving husband with much happiness in her glistening eyes. While I sit here in my own mystical world dreaming of my Mr. Charming and enjoying the aroma of henna, I am waiting to relish my platinum day of love.